Hey people!
As I promised, I just managed to delete
30
posts out of
380
posts, yet there are still so many to be deleted. Do anyone know how to select
multiple delete
instead of deleting it one by one?
:D
Nice school day today,
because I just don't call it as SCHOOLing day for we didn't study at all!
3
periods of having "
SPM answering technic talk"
[the name was so, but the content was totally different!].
1
period of Puan Tan
grandma's story session.
2
periods of
oh-so-we-have-nothing-to-do,
and lastly
1
period
of yawning Addmaths
.
We spent our time chatting, camwhoring blablas!
Okay

:D

let's see the random pictures!
This was taken a few days ago outside the Biology lab.
It was found wounded and wet.
Mr. Shurvas refused to rescue it,
so it was left to jump around along the corridor,
the next day I went there again,
but it was missing ):

The task from Ms. Liew (:
I am into drawing once again!
Oh by the way
let's eat healthily
in order to have nice body figure like the teacher xD!

What are KFC doing?
I am a moron? Yes agree.
Keiiyan didn't want to appear in the photo of the day T_T!!!
:D We crossed her mouth!!
Do not talk? NO.
Just do not laugh.
But from her eye expression,
we can still see that she is smiling, right?
Oh during the talk today,
we have a group work session.
We are required to do a mindmap on
HOW TO STUDY EFFECTIVELY.
Or in simple words, HOW TO GET STRAIGHT A'S?
And...
Glory becomes our artist =D
Cartoon-styled mind map we had!
She is so talented that she could draw all these in just
a SHORT, few minutes time!
Heart you, girl!
How'd I wish to be gifted like her (:
WAYS TO GET EXCELLENT RESULTS:
1.
Ermmm true, but sounds like hypocrite!
Nope. Just do not USE your friends (:


2.
Who usually do this in class?
xD! It's alright, BUT just make sure that
you do not spill your saliva on the desk =X
Yes.
To get good result,
study until you feel like throwing the whole book into your stomach xD
Oh ice-cream, doughnuts, junkies !!!
I'd love it! But NO during exams ):
Finally!
The masterpiece after a lil' decoration on it.
Oh the Kak Su loves this,
so we got the token of appreciation (:
Okayyy the prize is just like that = =
Oh let's think the other way round,
this key chain will at least reminds you on something happened (:
Before the talk ends,
we manage to make some drama in the hall.

JoeyC:
Reading ghost story
ViviC: Trying to become a ghost in the story
FishF: Attracted by the ghosts, so snapped this photo
The drama queens xD
Posing, posing and posing!
Do you know that "Fuck off", is the famous slogan of Vivian nowadays? xD
And she is shouting that to Joey LOL
My table is messy, I knew.
Did you notice Keiiyan and Farah at the corner of this picture?
What were they doing?@_@
Oh Vivi's table is worse than mine xD!
I escaped from being captured (:


Vivian is a hardworking person. She loves to study.
She loves to read. She loves to do Puan Tan's notes.
Does that sound so true? xD


She loses attention towards her work when she saw the camera :D
Sorry the surrounding is dark,
but
ROMANTIC
to have such SEXY post xD!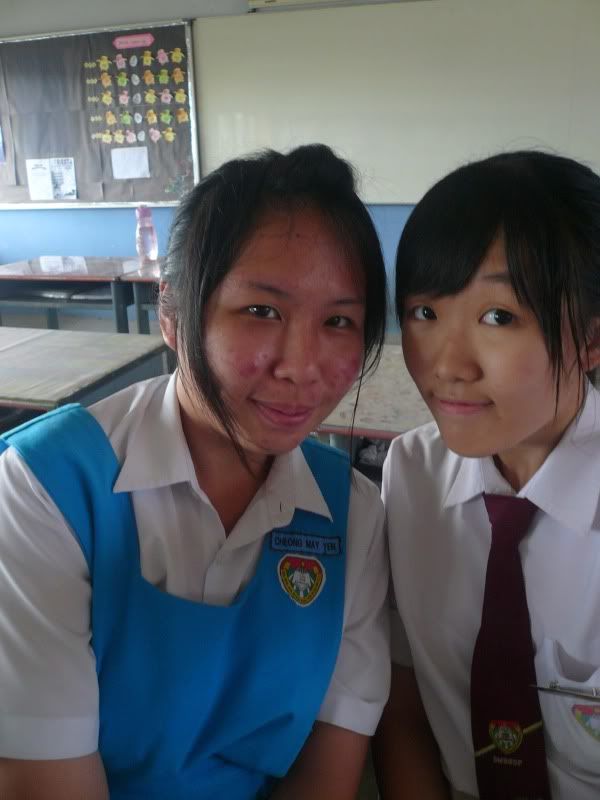 Finally no more camwhoring for Vivian.
It's our turn! XD
PLEASE DO NOT SCROLL TOO QUICKLY!
SOMETHING AWAITING YOU!
Please grab this picture,
and edit her face, hand and body "nicely".
I wonder what would she turn out in the new creation of yours :D
Sorry I knew this post is a
disappointment
for people who admire Keiiyan,
because there is no direct-face photograph of her.
Coz' she didn't want to take picture today T_T!!!
Anyway, be patient.
You can see her lil' teddy here first xD!
We're guild members!